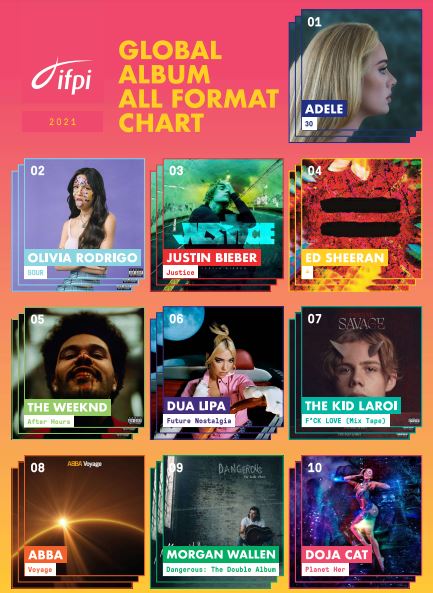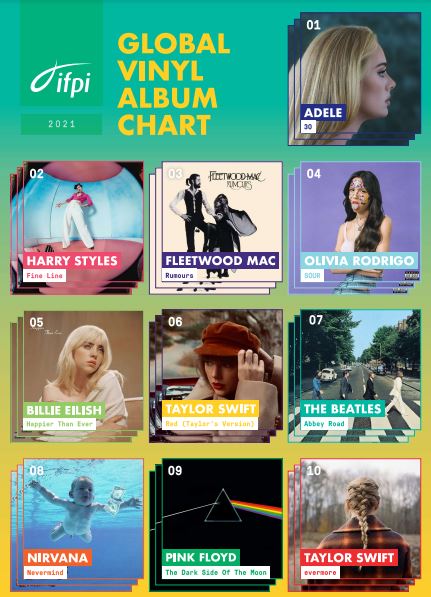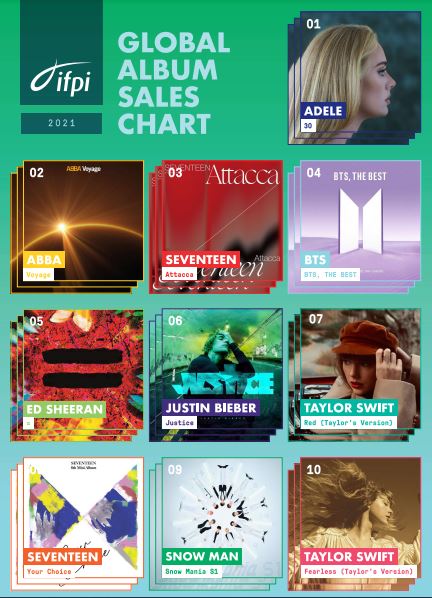 Adele's '30' tops the Global Album Sales Chart for 2021. The Global Album Sales Chart combines global sales of physical albums and digital album downloads to rank the top albums in a calendar year.
'30' also topped the Global Album All Format chart. The Global Album All Format Chart takes into account all consumption formats, spanning physical sales, digital downloads, and streaming platforms across a calendar year. It is weighted based on the relative value of each method of consumption.
'30' also ranked #1 on the inaugural IFPI Global Vinyl Album Chart. The Global Vinyl Album Chart combines global sales of vinyl format physical albums to rank the top albums in a calendar year.
'30' is Adele's 4th studio album, and was released on November 19, 2021 after a six-year hiatus following the release of her multi-award winning third studio album 25, released in 2015. Preceded by the mega star's chart-topping comeback single "Easy on Me", '30' went on to reach #1 in over 24 countries including the UK where it became Adele's 4th consecutive #1 album, making her the first act to debut all their albums atop the UK Albums chart! It garnered the highest first-week sales for an album by a female artist in the UK since Adele's own '25', and became 2021's best-seller in the country! In the US, it was Adele's 3rd consecutive Billboard 200 number-one album, and the year's best-seller as well. '30' was the world's best-selling album of 2021, with over 5 million copies sold in the year. Additionally, Adele was the 3rd best-selling artist of 2021 globally. 
ABBA's 'Voyage' was the 2nd best-selling Album of 2021. The Global Album Sales Chart highlights the continuing importance of Asia, particularly sales of physical albums, with K-Pop stars BTS at #4 with 'BTS, the Best' and SEVENTEEN who are featured twice in the chart at #3 with 'Attacca' and at #7 with 'Your Choice'), while Japanese group Snow Man's first studio album 'Snow Mania S1' was the World's 9th best-selling album of 2021!