American country singer, Morgan Wallen, Tops The United World Chart With 'Dangerous' Selling 173.000 Units Globally In Its 2nd Week!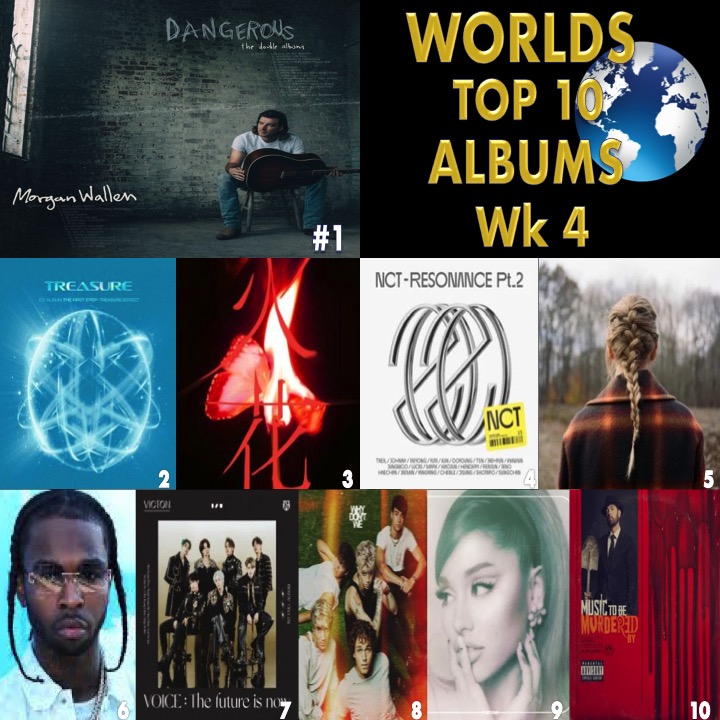 'Dangerous' by American country singer 
Morgan Wallen 
reaches the top of the United World Chart, lifting 2-1 in its 2nd week, selling another 173,000 equivalent sales and a total of 461,000 so far.
Last week's no.1, '1st' by the Japanese idol boy band 
SixTONE
, drops 1-23, selling another 37,000 sales and a total of 504,000 according to Oricon.
'The First Step: Treasure Effect', the first full-length album by the South Korean boy band
Treasure
, is this week's highest new-entry at no.2 with sales of 160,000!
G I-DLE
's 'I Burn', the 4th EP by the Korean Girl Group, lands at no.3 with 121,000 sales units while Korean Boy Group, 
NCT
, holds at #4 on the United World Top 10 Albums Chart with 'NCT - Resonance Part 1+2' after selling another 100.000 units and 2.012.000 so far! The album topped the Gaon Album chart in Korea for 2 weeks!
Former Number One for 4 whole weeks, 
Taylor Swift
's 'evermore', slips 3-5 after selling another 93.000 units and 1.189.000 official sales so far excluding China, where Taylor is the top-selling foreign Artist. As per Republic Records, 'evermore' sold over 1 Million Records in its 1st week globally including 509,000 units in China, marking Swift's 3rd album in 16 months to do so, and her 8th consecutive studio album to achieve it! 'evermore' debuted at #1 on the Billboard 200 in America, with Swift becoming the first woman in American history with 8 consecutive number-one debuting albums! All 15 of 'evermore' tracks entered the Billboard Hot 100 the same week, with the lead single, "Willow", becoming her 7th No.1 single on the chart and 2nd No. 1 in 2020 following "Cardigan". With 'folklore' and 'evermore', Swift became the first act to simultaneously debut atop both the Billboard 200 and Hot 100 charts twice! 'evermore' ranks #8 on Rolling Stone's best-selling year end albums chart, and #10 on Nielsen SoundScan's best selling albums of 2020 with 283.000 copies sold! its sister album, 'folklore', was the best-selling album of 2020 in the US! 'evermore' also hit #1 in Canada, Australia, New Zealand, Portugal and the UK.
PopSmoke
's former chart topping album, 'Shoot for The Stars, Aim For The Moon' holds at 6 in its 27th week on the chart, selling another 85.000 eqivalent units and 3.507.000 so far!
Korean Goup
Viction
debut No. 7 with its new album, 'Voice: The Future Is Now' by Viction with 72,000 sales.
'The Good Times And The Bad Ones' by the American boy band 
Why Don't We 
lands at no.8 with 71,000 sales.
Ariana Grande
's former chart topping album, 'Positions', drops 7-9 in its 11th week on the chart, selling another 68.000 units and 1.306.000 units so far! It's Ariana's 6th studio album, released on October 30, 2020, by Republic Records. 'Positions' also debuted at number one on the US Billboard 200 chart with 174,000 album-equivalent units, which includes 42,000 sales, marking Grande's 5th number-one album in the US. The album also hit #1 in Argentina, Canada, Ireland, Lithuania, New Zealand, Norway, and the UK. The title track of the same name debuted atop the Billboard Hot 100 and earned Grande her 5th number-one single in the US and 3rd Hot 100 chart-topper in 2020, the only act with five #1 debuts on the chart! All 14 of its tracks charted simultaneously on the Hot 100.
Eminem
's 'Music To Be Murdered By' reenters the United World Chart Top 10 at #10 after selling another 63.000 units and 2.208.000 equivalent units so far! Released on December 18, 2020, the deluxe version of 'Music To Be Murdered By' exploded on all digital platforms without any prior announcement. It includes the original album's 20 tracks along with 16 new ones. It includes a variety of features, with guest appearances from Skylar Grey, DJ Premier, Ty Dolla $ign, Dr. Dre, Sly Pyper, MAJ, and White Gold.
Website Proudly Designed, Development & Supported by Nocturnal Cloud.