Ariana Grande feat. Iggy Azalea 'Problem' is World's No.1 Single of the week!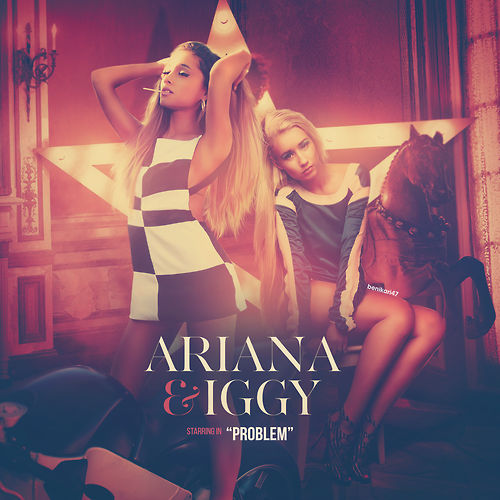 A fortnight ago it was a try, when Ariana Grande climbed for the first time to the summit with scanty 234.000 points, a nine-year low. Last week, Sam Smith's 'Stay With Me' overtaked with 273.000 points (this week at no.2 with 260.000 points). But now after the successful release in United Kingdom, where 'Problem' starts at the tip with more than 100.000 sales, the songs returns also to the no.1 spot of the Global Track Chart. 'Problem' scales up to 333.000 points, a massive 41% boost compared to the previous week and the highest points frame since six weeks. Swedish duo Nico & Vinz reaches a new peak with a jump at no.3 and an 1% points increase to 225.000. Pharrell Williams' 'Happy' breaks through the 12 million border this week and rises to no.12 on the ALL TIME CHART. On the weekly tabulation it sits tight at no.6 in its 30th week with another 202.000 points. Highest debut comes from the Aussie-boys 5 Seconds Of Summer. 'Amnesia', the fifth lift-off from their self-titled album shoots straight at no.16 with 137.000 points. Close behind starts chart-champion Ariana Grande with another song. 'Break Free', a collaboration with Russian-German musician Zedd, comes in at no.17 with 124.000 points. Not far away at no.19 opens the current no.1 of the Japanese Single Chart, 'Omoidama' by the boy group Kanajani 8 with 112.000 points. Outside the Top 40 waiting among other MKTO's 'Classic' at no.42, Kesney Chesney's 'American Kids' at no.44, Kongo's 'Come With Me' at no.47, Dierks Bentley's Drunk On A Plane' at no.52 and Vance Joy's 'Riptide' at no.58 for their first appearance on the big list.
Website Proudly Designed, Development & Supported by Nocturnal Cloud.