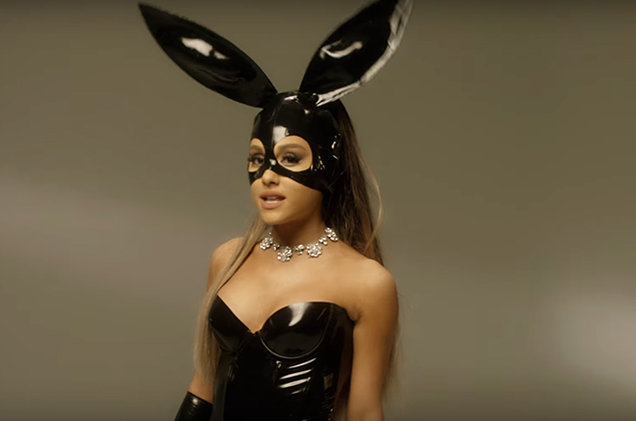 Ariana Grande's 'Dangerous Woman' tops the World's Best-selling Albums chart with first week sales of 271,000. It's Ariana's second chart topping Album globally! Her former LP 'My Everything', scored in the week 37, 2014 with 289,000 copies sold and a total of nearly 1,8 million so far. 'Dangerous Woman' sold 129,300 copies in the USA this past week, 11,700 in Canada (according to Nielsen Soundscan), 20,800 in Japan (according to Oricon), 14,300 in the UK (according to Music Week), 4,500 in France (according to SNEP), 6,700 in Australia (according to ARIA) and 6,100 in Italy (according to FIMI).

At no.2 on the Global Chart is country star Blake Shelton with his ninth studio Album, 'If I'm Honest', and sales of 153,000 in its initial week in the USA. The Album sold 7,600 in Canada, 1,300 in Australia and a total of 163,000 globally.

In its fifth week on the world chart, Beyoncé's 'Lemonade' sold another 131,000 units and slips from the top position to no.3.

Drake's 'View' slips to no.5 with 94,000 copies, with a total of 1,6 million after only four weeks.

Two legends are back on the scene: the 71 year-old British rock and blues guitarist Eric Clapton and the fantastic American singer/ songwriter Robert Allen Zimmermann, a.k.a. Bob Dylan who just celebrated his 75th birthday some days ago. His 36th studio Album 'Fallen Angels' lands at no.6 worldwide after selling 87,000 copies. Eric's 23rd studio Album 'I Still Do' debuts at no.4 with 106,000 units.

Ed Sheeran's album 'X' ranks now a spectacular 100th week on the chart. It is at no.38 after selling another 16,000 copies.

The Weeknd's 'Beauty Behind The Madness' sold another 13.000 copies last week, reaching a total of 2,117,000 so far.

'Cleopatra' by The Lumineers sold 14,000 units last week, and 305,000 copies so far.

'Santana IV' by Santana sold 12,000 units last week and a total of 200,000 units so far.

'Blurryface' by twenty one pilots sold 1,265,000 copies so far. 'Death Of A Bachelor' by Panic! At The Disco, 543,000, and 'Revival' by Selena Gomez 722,000!