'Closer' by American DJ duo Chainsmokers reigns an eighth week at the top of the global track chart!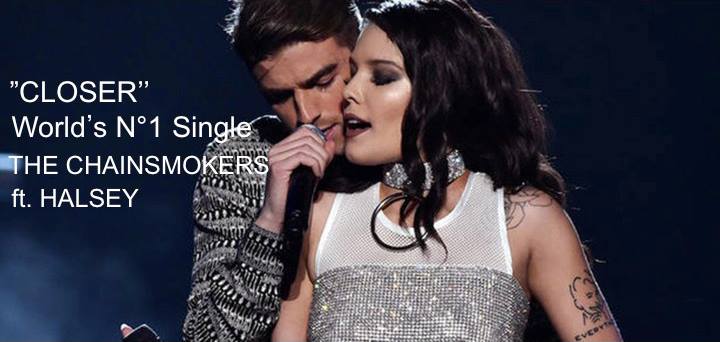 "Closer" debuted at number nine on the Billboard Hot 100 in the issue
dated August 20, 2016. It became the third top ten single for The
Chainsmokers on the chart, after "Roses" and "Don't Let Me Down." It is
Halsey's first top ten on the chart and her second top forty. In the
issue dated September 3, 2016, the song moved from number six to one,
becoming both artists' first number-one song and the first the song by a
duo to top the chart since Macklemore & Ryan Lewis's "Thrift Shop" and
"Can't Hold Us" in 2013. The song also topped the Dance/Electronic Songs
chart, becoming the first song to reach number one on both the Hot 100
and the Dance/Electronic chart simultaneously since Baauer's "Harlem
Shake" in early 2013. It became the duo's fourth number one song to top
the latter chart, passing Calvin Harris' previous record of three songs.
It went on to top the Hot 100 chart for ten consecutive weeks. In its
fourth week, the song was joined by "Heathens", which moved from number
three to number two. This marks the first time (and the third time
overall) that duos have held the top two spots at the same time since
Tears for Fears was on top with "Everybody Wants to Rule the World" and
Wham! was number two with "Everything She Wants" (the week before, the
two songs were in the opposite order). Internationally, the song reached
number one in Australia on August 13, 2016, also becoming both The
Chainsmokers' and Halsey's first number-one song there. It also peaked
at number one in the UK, New Zealand and Canada. The song topped the UK
Singles Chart for four weeks, becoming the first song by a duo to log
multiple weeks at number one in both the US and the UK since LMFAO's
"Party Rock Anthem" in 2011.
Website Proudly Designed, Development & Supported by Nocturnal Cloud.