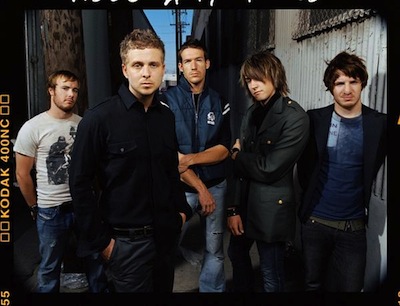 "Counting Stars" debuted on the US Hot 100 in July at No. 32, dropping as far down as No. 80, but its now in the Top 10 still selling at No.8 this week. The Single after 3 months went to the top of the UK charts for 2 whole weeks and is moving up the World's best-selling singles chart at No.5 this week becoming the biggest global hit of the band's career.  
It's "both a blessing and a curse," OneRepublic frontman/songwriter Ryan Tedder says. "It means our album cycle's probably not going to be over until 2015. We don't have the magic wand that pop stars have to put out a song and know it will be No. 1 in 90 days or less, then they can move onto the next one."
But One Republic are used to a slow and steady climb to the top of the charts. Timbaland's remix of "Apologize" catapulted the band to instant fame in 2007 and went on to sell  5.7 million copies in the US alone. "Good Life," from 2009's "Waking Up," had a particularly long shelf life. It peaked at No. 2 on the Hot 100 nearly two years after its initial release, based on a resurgence of synch activity from a six-month Walt Disney World ad campaign and various film trailers ("Eat Pray Love," "One Day") and TV placements ("Gossip Girl," "90210," "Cougar Town"). "Good Life" sold 3.3 million copies.
A week after One Republic's June 18 performance of "Counting Stars" on "The Voice," featuring Tedder and Usher protege Michelle Chamuel, sales soared 723% to 112,000 copies, and the track surged 59-11 on Hot Digital Songs. Tedder has returned to "The Voice" this season as a mentor for coach Adam Levine's team.
Ron Laffitte, OneRepublic's manager at Laffitte Management, says its the band's consistent TV and film placements that helped "Native" find its audience. "I always say, 'You just need one person working on your behalf to make something happen,'" Laffitte says, but OneRepublic has the benefit of two strong supporters. Laffitte works with Interscope's Tony Seyler and Sony/ATV's Wendy Crowley to approve synch opportunities in TV, film and commercials. "It's not often that you get to have two separate companies working and willing to come together on a particular artist. But this is a band that fosters a lot of good will. They make great music and are also good people, and the TV, film and even commercial communities have been very generous with them."
In fact, "Native's" lead single "Feel Again," released in August 2012, was created specifically for an ad campaign, the Ad Council's Save the Children public-service campaign, valued at $10 million in unpaid TV airtime from participating TV networks. The song was created in partnership with ad agency BBDO and pitched by then-Frontline chairman Irving Azoff, who was approached by American Express chief marketing officer John Hayes about the most appropriate songwriter who could score the campaign. Tedder was so inspired by the cause for children's health care, he based the song on actual heartbeats from children he met in Malawi and Guatemala. "The original idea was not to have OneRepublic perform the song," Laffitte recalls, "but Ryan just fell in love with the charity and what it represented, so he came to me and said, 'Not only do I like the song, I want OneRepublic to be the ones who deliver the song.'"
Additional synchs soon followed, including a pair of licenses for "Feel Again" and "If I Lose Myself" for the NHL's 2013 spring campaign; a March Artist of the Month campaign on ESPN (featuring album tracks "Light It Up," "Life in Color" and "I Lived"); an Opening Week campaign for Major League Baseball that aired on the MLB Network the week of April 1; and Apple's use of "Life in Color" to launch its new line of neon-hued iPhone 5C devices.Tedder says synchs help weave songs into the fabric of everyday life, and refers to the industry maxim, "You could be sitting on the greatest song in the world, but the hardest thing to do is let the world know it actually exists. "Synchs have played a crucial role for OneRepublic," he continues, "just as they have for a lot of other bands. The Lumineers -- where would 'Ho Hey' be without Bing? The song's a hit. Or Imagine Dragons and "It's Time" or "Radioactive." Ask anyone in the band how much longer it would have taken had the world not heard that song in five different commercials. It becomes part of the background music to your everyday life."
Laffitte says all of the commercial licenses have come to form a "significant" part of the band's publishing revenue, "and I would imagine Interscope's P&L has benefited a great deal as well." But he also believes the exposure played a major role in helping the band sell tickets to its biggest North American tour yet. (Colorado's Red Rocks at 9,500 and New York's Pier 26 at 5,000 were among the sellouts.) "If you can sell those kind of tickets without a current hit single, that means you've done a nice job in building a career. And to some extent, that includes the commercials," he says.
The tour has also helped the group connect the dots for fans who might not have realized songs like "Secrets," "Stop and Stare" and "All the Right Moves" were from the same band. "When you put a concert spot on the radio and somebody buys a ticket, all that messaging does begin to come together," Laffitte says. 
The group just took off to Asia for a few dates in Singapore, China and the Philippines, before hitting Australia and New Zealand in November. Early 2014 brings touring in Russia and Europe, before a return engagement stateside in May and June. Suddenly, Tedder's prediction for "Native's" promotional plan isn't looking so far off. "Depending on the demand, we'll do another run in the fall of 2014, winter 2015," Laffitte added "Plus, "Counting Stars" has only begun its climb at radio, as digital sales have been far outpacing its progress at top 40 formats. It rises 40-31 on the Hot 100 Airplay chart and 9-4 on Hot Digital Songs. "It's one of those songs that will be on the radio for a long time," Laffitte says. "I wouldn't be surprised if the song is on the radio all the way into March, which means we'll get our next single a little bit later. There's at least another couple singles left on there."