Drake has the World's best-selling Single for a 4th consecutive week!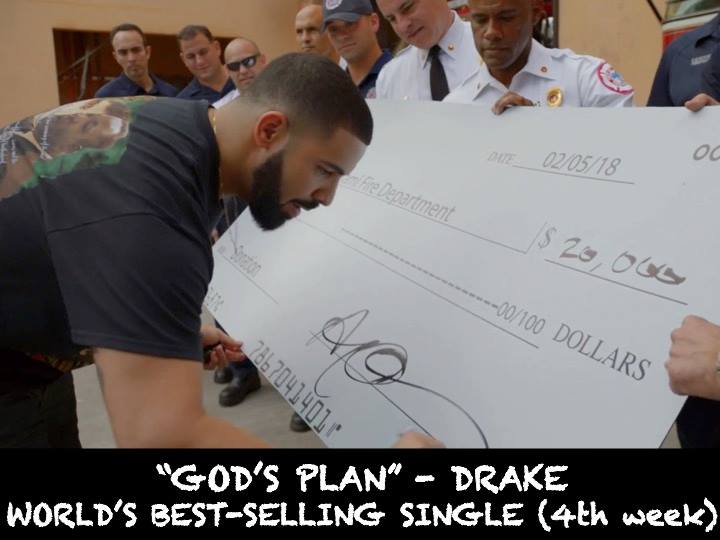 Drake's "God's Plan" scores a 4th week atop the Global Track chart. The Song is N°1 in America for a 6th week, topping the Billboard Hot 100 with another 92.8 million streams, the 4th best US streaming week ever! God's Plan wins 7 of the 9 best US Streaming weeks, the only song with #Baauer's #HarlemShake to surpass 100 million steams in one week! 

SONGS WITH MOST US STREAMS IN 1 WEEK
1 Harlem Shake - 103.1million - 2/3/13
2 Gods Plan - 101.7 - 3/3/18
3 Harlem Shake - 97.6 - 9/3/13
4 Gods PLan - 92.8 - 10/3/18
5 Look What You Made Me Do - 84.5 - 16/9/17
6 Gods Plan - 83.3 -10/2/18
7 Gods Plan - 82.4 - 3/2/18
8 Gods Plan - 89.6 - 17/2/18
9 God's Plan - 75.5 - 24/2/18

God's Plan" s the 3rd best-selling Single of 2018, after Camila Cabello's "Havana" and Ed Sheeran's "Perfect'". The Song is powered by its video which was filmed at Miami High School in which the Canadian Rapper donates nearly a million dollars to Miami and residents in need during the filming of the video. 

"God's Plan" has also topped the charts in Australia, Canada, Denmark, Germany, Greece, Ireland, Netherlands, New Zealand, Norway, Portugal, Sweden and the UK where it has been N°1 for 7 weeks! It has so far peaked at N°2 in France and Switzerland, N°3 in Austria, Finland and Italy, N°4 in Belgium and Hungary, N°6 in Hungary, N°7 in Czech Republic and N°8 in Spain.
Website Proudly Designed, Development & Supported by Nocturnal Cloud.