Drake's God's Plan is the World's N.1 Single for an 8th week!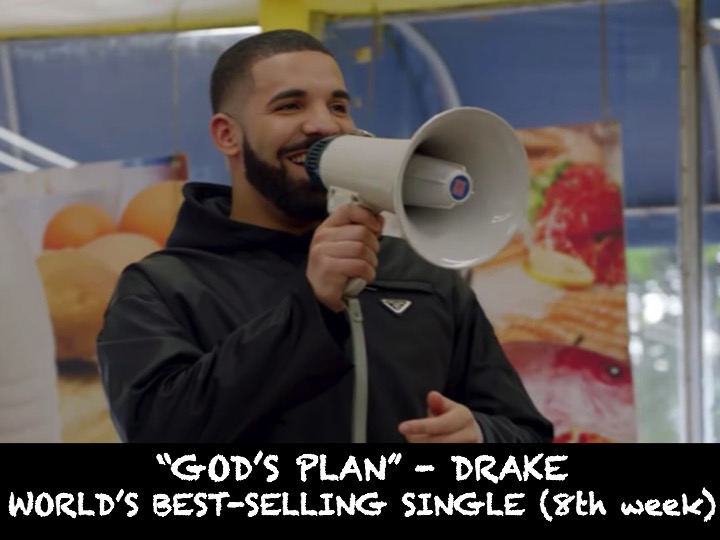 Drake resists stop the Global chart for an 8th non consecutive week despite tough competition from a horde of new exciting Singles!

"God's Plan" is also N°1 on the Billboard Hot 100 chart for an 11th incredible week, his longest run ever, surpassing "One Dance" which spent 10 weeks atop the chart in 2016! "God's Plan" won 52.1 million U.S. streams and 48,000 US downloads this week! it's the fourth single to have spent at least its first 11 weeks on the Hot 100 at N°1 and the 1st in 20 years!

HITS WITH AT LEAST 11 WEEKS ON HOT 100 AT N°1
1. One Sweet Day - Mariah Carey & Boyz II Men - 16 weeks 
2. Candle in the Wind - Elton John - 14 weeks
3. God's Plan - Drake - 11 weeks
4. I'll Be Missing You - Puff Daddy & Faith Evans - 11 weeks
God's Plan is the World's 3rd best-selling Single of 2018, after Ed Sheeran's "Perfect'" and Camila Cabello's "Havana".

So far, "God's Plan" has peaked at N°1 in Australia, Canada, Denmark, Germany, Greece, Ireland, Italy, the Netherlands, New Zealand, Norway, Portugal, Sweden, the UK where it was N°1 for 9 weeks and the US where it has been N°1 for 10 weeks! It has so far peaked at N°2 in France and Switzerland, N°3 in Austria, Finland and Hungary, N°4 in Belgium and Lebanon, N°7 in Czech Republic and N°8 in Spain.
Website Proudly Designed, Development & Supported by Nocturnal Cloud.