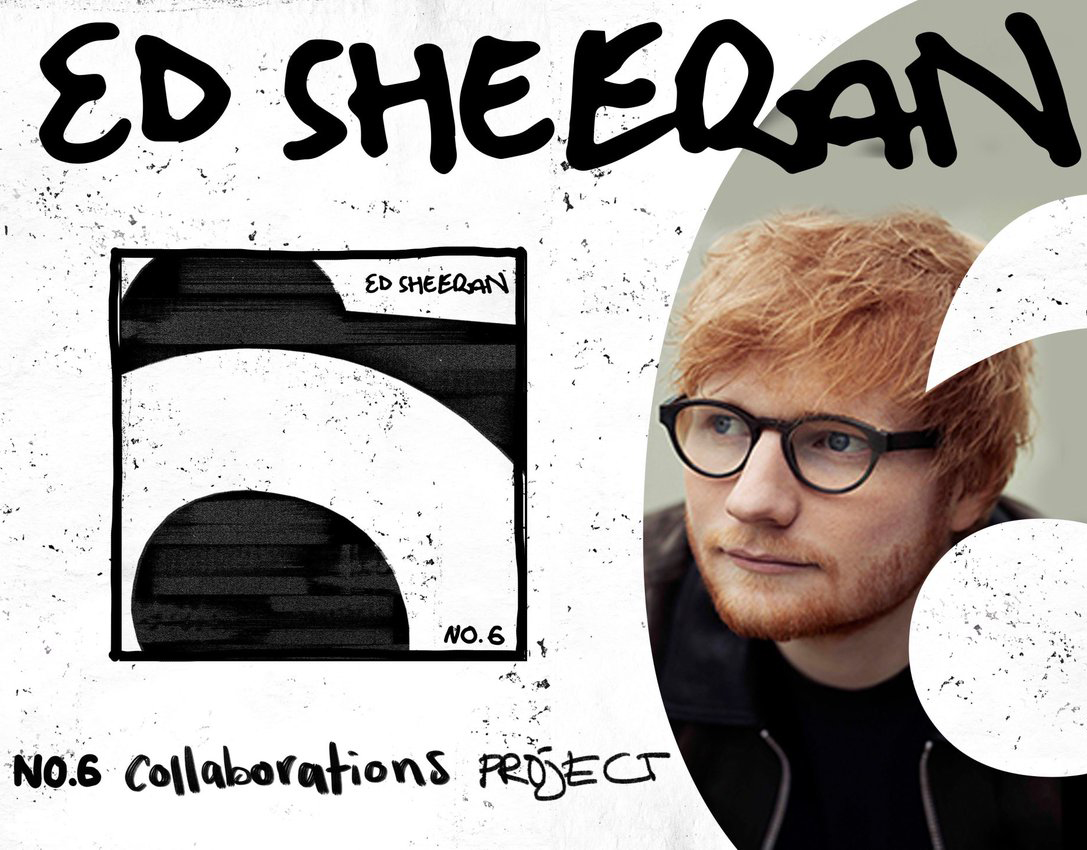 Ed Sheeran is the best-selling Male Artist of 2019 according to the IFPI. Ed released his 'No. 6 Collaborations Project', his 4th studio album, on  July 12, 2019 via Asylum Records and Atlantic Records! The album includes guest appearances by Bruno Mars, Camila Cabello, Cardi B, Chance The Rapper, Chris Stapleton, Dave, Eminem, 50 Cent, J Hus, Justin Bieber, Khalid, Skrillex, Stormzy, Travis Scott, Yebba and Young Thug among others. The album was preceded by its lead single "I Don't Care" with Justin Bieber, "Cross Me" ft. Chance The Rapper and PnB Rock, "Beautiful People" ft. Khalid, "Bloc" with Chris Stapleton and Bruno Mars, "Best Part of Me" ft. Yebba, "Antisocial" with Travis Scott, "South of the  Border" ft Camila Cabello & Cardi B and "Take Me Back To London" ft. Stormzy.  
'No. 6 Collaborations Project' debuted at No. 1 on the US Billboard 200 Album chart with 173,000 album equivalent units including 70,000 pure album sales. It is Sheeran's 3rd US number-one album! In its 2nd week, the album held at #1 on the chart, earning 78,000 album-equivalent units of which 16,000 were in pure album sales. On September 23, 2019, the album was certified gold by the Recording Industry Association of  America (RIAA) for combined sales and album-equivalent units of over 500,000 units! In the UK, the album debuted at  #1 on the Official Albums Chart with 125,000 AEUs, making it the fastest selling album of 2019. In its first week, 'No. 6 Collaborations Project had 57,000 physical sales, 18,000 downloads and 70.2 million track streams in the UK. The album debuted at No. 1 in 18 other countries, including Australia, Austria, Belgium, Canada, Czech Republic, Finland, Hungary, Ireland, Latvia, Lithuania, the Netherlands, New Zealand, Norway, Portugal, Scotland, Spain, Sweden and Switzerland. It also debuted at No. 2 in Denmark, France, Germany, Italy and Poland.
By the end of 2019, the album had sold 2.692.000 copies worldwide! Ed also continued to sell his hugely successful album 'Divide' and all his other albums which were still charting in charts globally. 'Divide' alone sold another 1.899.000 units in 2019 despite being released on March 3rd, 2017!