EXO's 'The War' sells another 337,00 copies and is once again the World's best-selling Album of the week!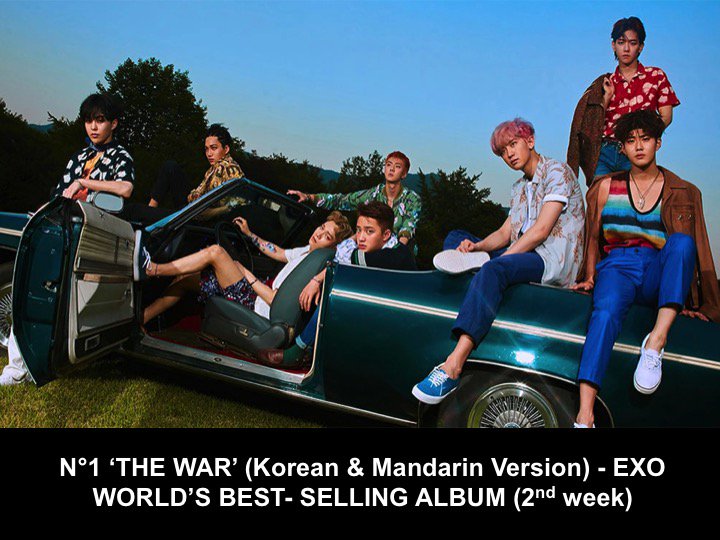 EXO's latest album, a repackage version of 'The War', has sold another
337,000 copies, and goes straight back to the top of the Global Album
Chart, where it debuted 7 weeks ago with massive sales of 476,000! With
the new version, the total sales of 'The War' exceeed 1,253,000 copies.

The highest debut of the week is 'Sleep Well Beast', the 7th studio
album by the American indie rock band The National. It is no.2 globally
with 135,000 in equivalent sales, 63,000 from the US, 20,000 from the UK
and 10,000 from Canada (according to Nielsen Soundscan / OCC).

At no.3 is 'Life Changes', the 3rd album from country-pop singer Thomas
Rhett which debuts with 133,000 equivalent sales, 123,000 of it in the
United States alone.

Ed Sheeran's 'Divide' slips one from 3 to 4 with 86.000 equivalent sales
this week and a total of 7.259.000 since its release. it is still the
World's best-selling Album of 2017!

French Group Indochine officiel's brand new Album '13' debuts at No. 5
with 1st week equivalent sales of 81.000!

Lil Uzi Vert's 'Luv Is Rage 2slips from 2 to 6 with 69.000 equivalent
sales this week and a total of 313.000.
New entry for ODESZA's 'A Moment Apart' with 1st week sales of 68.000!

Jack Johnson debuts with 'All The Light Above It To' and 1st week sales
of 67.000!

New rising Rap Star Xxxtentacion sells another 62.000 equivalent sales
of his new Album '17' and a total of 256.000 since its release!

Imagine Dragons' 'Evolve' closes this week's Top 10, selling another
55.000 equivalent sales for a total of 1.045.000 globally!
Website Proudly Designed, Development & Supported by Nocturnal Cloud.