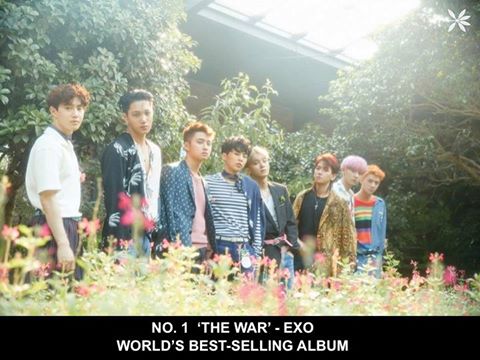 Korean Band EXO are on top of the world as their 4th studio album 'The
War' rockets to No.1 on the Global Album Chart with massive equivalent
sales of 476,000. 446,000 of these global sales were from South Korea
alone (according to Hanteo)! 'The War' received the highest number of
pre-orders of all time for a K-pop album, with over 800,000 physical
sales (shipments) making it the best-selling Album ever in Korea its
first week!


Keyakizaka 46's debut Album 'Masshiro Na Mono Wa Yogoshitaku Naru' is
2nd to Exo's 'The War' with 287,000 sales (according to Oricon).


The most successful international release of the week is Lana Del Rey's
'Lust For Life', her 5th studio album. which debuts at no.3 with 194,000
consumption units.


Tyler the Creator's 'Flower Boy' is the 4th best-selling Album this week
with equivalent sales of 131,000.


Three LP's of the legendary band Linkin Park return to the Global Top
10. 'One More Light', released in May 2017, reenters at no.5 with sales
of 126,000. The bands most successful album, 'Hybrid Theory' from 2000,
is no.8 with sales of 89,000 this week and a total of approximately 19
million so far! 'Meteora' lands at no.9 with 78,000 sales this week, and
about 12 million sales since its release in 2003!


Ed Sheeran's 'Divide', last week's best-selling Album globally, is this
week's 6th best-selling Album with sales of 113,000 and a total of
6.591.000 since its release in March.


Meek Mill's 'Wins & Losses' debuts this week with sales of 111.000 in
7th position!


Closing this week's Top 10 best-selling Albums Rank is Imagine Dragons
'Evolve' having shifted 73,000 and a total of 595,000 since its release!