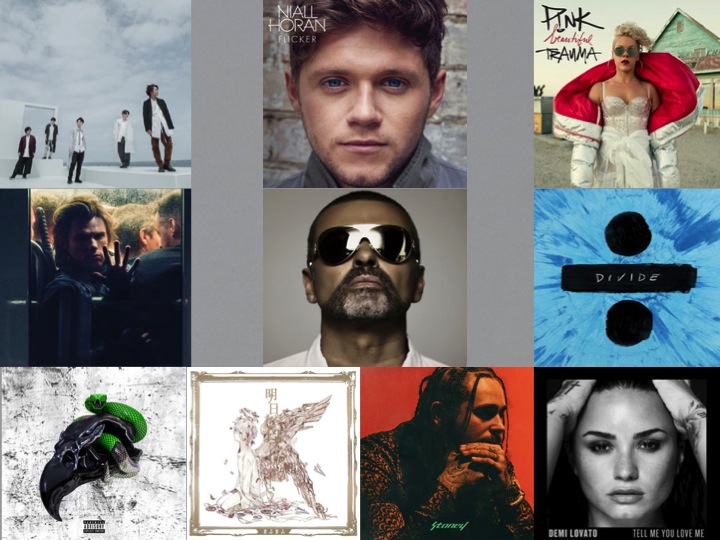 Arashi 16th Studio Album 'Untitled' tops the Global Albums chart with
sales of 668,000, according to Oricon.

Niall Horan's debut Album 'Flicker' is N°2 with sales of 243,000,
152,000 of which were sold in the United States alone, 23,000 in United
Kingdom and 16,000 in Canada.

Last week's N°1, P!nk's 'Beautiful Trauma' slips two spots down to no.3
with equivalent sales of 187,000 and a total of 925,000 after two weeks.

French rapper OrelSan debuts at N°4 with 'La Fête Est Finie', his 3rd
studio album, and equivalent sales of 102,000 sales, 97,000 of which in
France according to SNEP.

The re-release of George Michael's album 'Listen Without Prejudice'
closes this week's Top 5 with sales of 101,000,and a total of 6 million
since its original debut on the chart in September 1990. The album was
powered by the chart topping song 'Praying For Time', which led the
Global Chart for 3 weeks in October 1990!

Ed Sheeran's 'Divide' sells another 97,000 units for a total of
7.790.000.

New entry at N°7 for Future & Young Thug's new Album 'Slimey' with sales
of 91.000.

Mafumafyu's 'Ashitairo World End' debuts at N°8 with equivalent sales of
72.000.

Post Malone's 'Stoney' sells another 64,000 in equivalent sales for a
total of 1.546.000 and Demi Lovato closes this week's Top 10 with 'Tell
Me You Love Me' and equivalent sales of 55,000 for a total of 280.000 so
far!