Korean Band Wanna One sells another 112,000 units of 'To Be One', the World's No. 1 Album for a 2nd Week!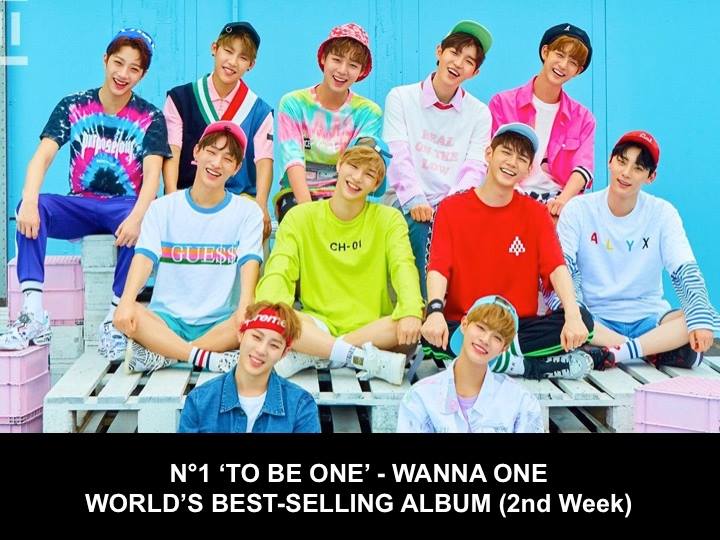 Wanna One has sold another 112,000 units of their chart topping Album
'To Be One' and a grand total of 531,000 so far after just two weeks!
The South Korean Band top the Global Album chart for a 2nd consecutive
week!

In 2nd place is Ed Sheeran's 'Divide' after selling another 93,000
equivalent sales. It's the first time in its 25 weeks on the chart that
Ed's LP sold less than 100,000!

Kendrick Lamar's 'Damn' rises from no.6 to no.3, selling another 63,000.

Imagine Dragons' 'Evolve' moves up 3 spots to no.4, also with 63,000
sales, a little 1,5% decrease since the last week.

Closing the top 5 is this week's highest debut, 'Science Fiction', the
fifth studio album by the American rock band Brand New. It debuts with
63,000 sales, 58,000 of it from the United States alone. It's the first
studio album of the band since nearly eight years since 'Daisy' in 2009!

Ke$ha's new Album 'Rainbow' slips from No. 2 to 6 after selling 54,000.

New entry for Steven Wilson's 'To The Bone' at No. 7 after selling
53,000 copies globally!

Kodak Black's 'Project Baby 2' enters the chart at No. 8 selling 51,000
copies!

DJ khaled 'Grateful' slips from 8 to 9 after selling another 45,000
copies and Neck Deep's 'The Peace And The Panic' debuts at No. 10
selling 45,000 copies!
Website Proudly Designed, Development & Supported by Nocturnal Cloud.