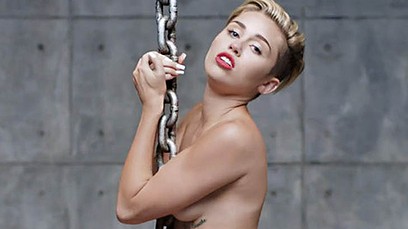 Not only did Miley get her first no.1 Single as 'Wrecking Ball' tops the US Charts, she is also no.1 on iTunes. no.1 on Spotify. no.1 on Streaming, no.1 on Digital songs and no.1 on VEVO!
The days when album sales were the purest measure of a pop star's success are gone forever. Singles charts are getting the numbers.
Haters may mock Miley's raunchy performance on MTV or her nakedness in the "Wrecking Ball" video, but whatever she's doing, it's working – After "Wrecking Ball" landed 19.3 million Vevo views in one day last week, the song sold 477,000 downloads, and went from no.10 to no.1 on Billboard's Digital Songs chart. In fact "Wrecking Ball," which is Miley's second single off her upcoming album, "BANGERZ," is no.1 in the US and no.2 in the World's best-selling Singles Chart thanks to her music video for the track which has been already seen by 121,564,597 in just 9 days! 
Miley took the No.1 spot on the Billboard 100 for the first time, as her past successes have peaked at No. 2. The former "Hannah Montana" star's first entry in the top five was her 2009 jam "The Climb," which hit No. 2, followed by the smash hit "Party in the U.S.A." which rose to No. 2, and finally, her controversial party anthem "We Can't Stop" which took No. 2 earlier this summer.
Miley's fourth studio album, hyped to hit stores on Oct. 8, is followed on the Hot 100 in America this week by Katy Perry's "Roar" at No. 2, Lorde's "Royals" at No. 3, Robin Thicke's "Blurred Lines" at No. 4, and Avicii's "Wake Me Up!" at No. 5.