"One Kiss" by Scottish DJ Calvin Harris and British singer, songwriter Dua Lipa is the World's N.1 Single for a 2nd week!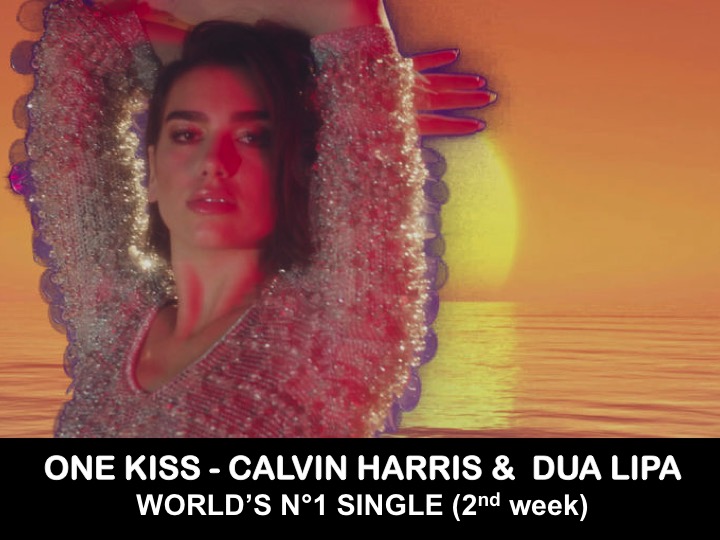 "One Kiss" tops the Global Track Chart for a second week! The Song is N°1 in the UK for an 8th week and has hit N°1 in Austria, Belgium, Croatia, Czech Republic, Germany, Greece, Hungary, Ireland, Israel, Latvia, the Netherlands, Portugal, Scotland and Slovakia! The Song has peaked at N°2 in Denmark, Hungary, Lebanon, Luxembourg and Mexico, at N°3 in Argentina, Australia, El Salvador, Finland and Switzerland, N°4 in El Salvador, France, Slovenia and Sweden, N°5 in Norway and Sigapore, N°6 in Malaysia and New Zealand, N°7 in Romania, N°8 in Poland, N°9 in Canada and Ecuador and N°10 in Italy!

Ariana Grande's "No Tears Left To Cry" holds at n°2 after debuting at N°1 on the Global Track chart just 6 weeks ago!

'Cinderella Girl' by the brand new Japanese idol group King & Prince debuts at n°3 while Drake's "Nice For What" which topped the Global Track chart for 2 weeks, slips 1 spot to n°4! 

marshmello's "Friends" with Anne-Marie holds at n°5
while Post Malone's "Psycho" ft. Ty Dolla $ignrises 1 spot to n°6.

Zedds "The Middle" with Maren Morris & Grey slips 1 spot to n°7 while former chart topper, Childish Gambino, slips 4 spots to n°8 with his smash hit "This Is America".

Drake's God's Plan" which topped the chart for 8 weeks, slips 1 spot to n°9 and closing this week's Top 10 is Shawn Mendes' "In My Blood", holding in the same position as last week!
Website Proudly Designed, Development & Supported by Nocturnal Cloud.