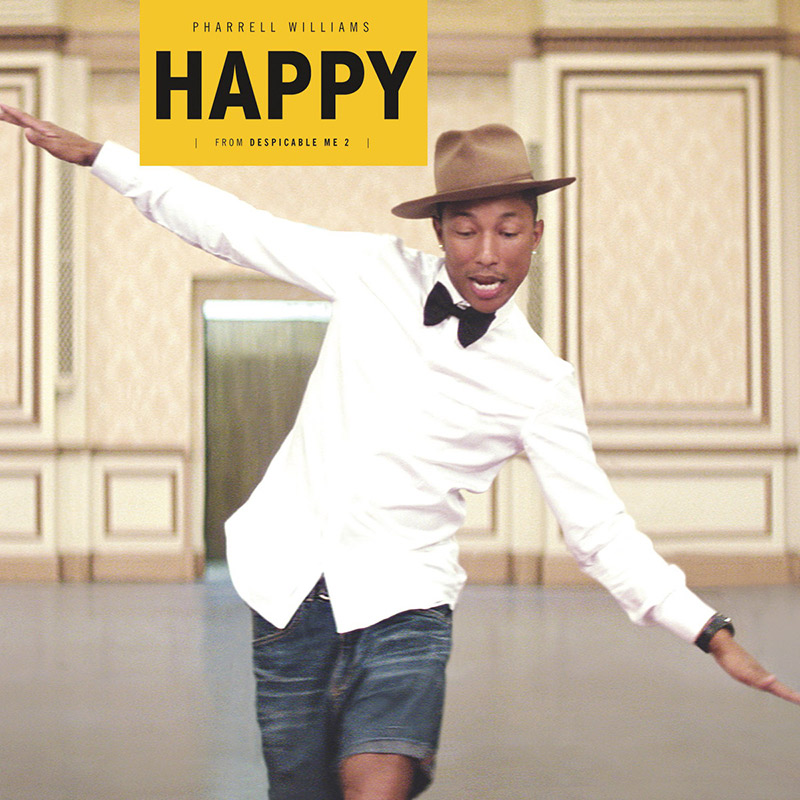 Everything Pharrell touches turns to gold. After the N°1 hits "Get Lucky" and "Blurred Lines" both produced by and featuring Pharrell, the man himself goes to the top of the world charts with his first solo smash "Happy".
"Happy" is a song from the Despicable Me 2 soundtrack album. The song was written and produced by Pharrell. It was released on November 21, 2013 alongside a long-form music video presented via the website 24hoursofhappy.com. The song was reissued on December 16, 2013 by Back Lot Music, under exclusive license to Columbia Records, a division of Sony Music Entertainment. The Single has topped the charts in Australia, Belgium, France, Germany, New Zealand, Portugal, Switzerland, the United Kingdom, Ireland, and the Netherlands and peaked within the top ten of the charts in Italy, Spain, Hungary and Denmark.
"Happy" has been nominated for an Academy Award for Best Original Song. The winner of this award will be announced at the 86th Academy Awards ceremony on March 2, 2014.

"Happy" ends the three week reign of Pitbull feat. Ke$ha's "Timber", which slips to N°2. Eminem feat. Rihanna's "The Monster'" stays at N°3 while Katy Perry's "Dark Horse" featuring juicy J goes up to N°4 and One Republic close the top 5 with their global smash "Counting Stars"