Pharrel's "Happy" is n°1 for the Fifteenth Week in a Row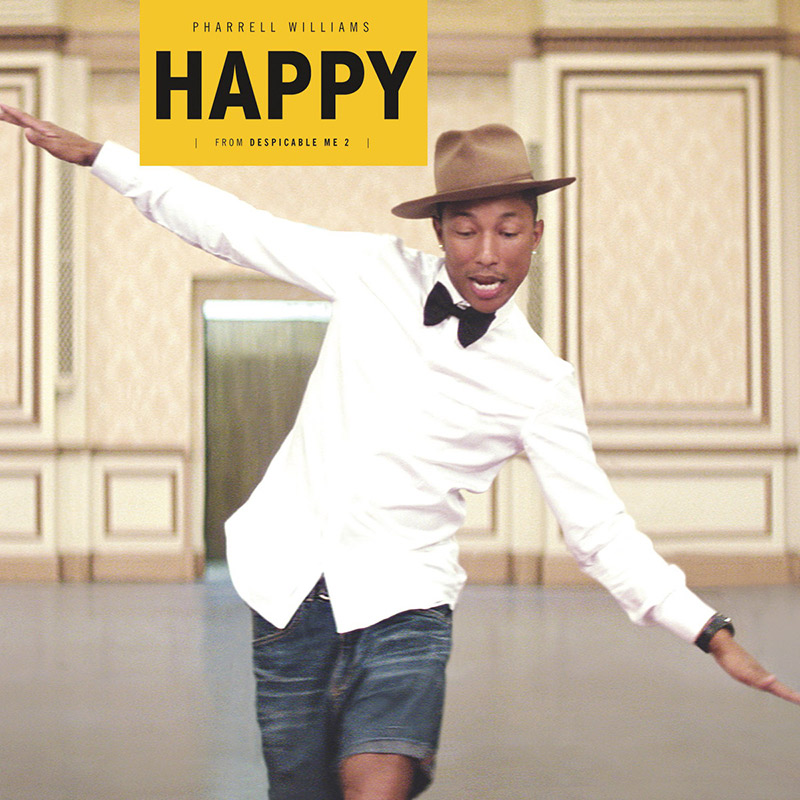 Pharrel's 'Happy' holds the pole position for the 15th week in a row. The alltime high is still '(Everything I Do) I Do It For You' by Bryan Adams. The love song from the movie 'Robin Hood - Prince Of Thieves' stayed no.1 for 19 weeks. 'Hey Jude' by the Beatles ruled the global hitlist in 1968 staying 18 weeks at the top of the charts. 'I Gotta Feeling' by the Black Eyed Peas remained 17 weeks atop the chart in 2009. Whitney Houston's  'I Will Always Love You' in 1993, Spanish Duo Los Del Rio's 'Macarena' in 1996 and 'It's Now Or Never' by Elvis Presley in 1960 also all remained 17 weeks at no.1. George Harrson's 'My Sweet Lord' remained 16 weeks at no.1 in 1970 and so did  'My Heart Will Go On' by Celine Dion in 1998, 'Hips Don't Lie' by Shakira feat. Wyclef Jean in 2006 and 'Eye Of The Tiger' by Survivor in 1982. '
Getting back to this weeks charts, never before have five songs entered the Top 10 in a single week. Ariana Grande lands the highest entry with her new smash hit  'Problem', a collaboration with Australian rapper Iggy Azalea which debuts in the top 10 at no.2. It's by far her biggest hit so far. Close behind at no.3 is Japanese boy band Arashi with their 20th global Top 10 Single 'Guts!'. Calvin Harris' new production 'Summer' climbs from no.13 to no.5. Iggy Azalea has a second entry for the first time in the global Top 10 and with two songs! Her significant smash 'Fancy' shoots up the charts from no.15 to no.6. Finally, 'A Sky Full Of Stars', Coldplay's tenth success in the global Top 10 and the third Single from the upcoming album, starts at no.9. 
Outside the top 40 is the vey talented Milky Chance and his 'Stolen Dance' at no.44. Katy Perry's 'Birthday' at no.45, MKTO's 'Classic' at no.57 and Cash Cash feat. Bebe Rexha's 'Take Me Home' at no.59 for their first appearance on top 100 best selling singles.
Website Proudly Designed, Development & Supported by Nocturnal Cloud.