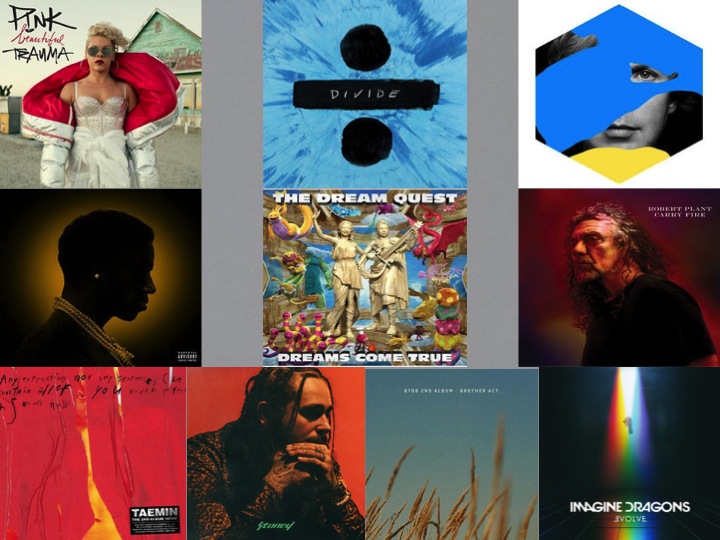 P!nk's 7th studio album, 'Beautiful Trauma' is N°1 on the Global Album
Chart this week with 738,000 equivalent sales! it's the third highest
debut this year, after 'Divide' by Ed Sheeran debuted with 1,789,000
sales in March and 'Love Yourself 承 Her' by the Bangtan Boys bowed with
826,000 sales in the week 39. Pink's new album got massive 408,000
consumption units from the United States, 78,000 from Australia, 70,000
from United Kingdom, 60,000 from Canada, around 25,000 from Germany, and
24,000 from France. 'Beautiful Trauma' is powered by its lead single
'What About Us', which climbs to no.3 on the singles chart this week.

Ed Sheeran's chart topper, 'Divide', returns to N°2 this week with sales
of 90,000 and a total of 7,69 million after 33 weeks! His former chart
topping album 'X' surpasses the 10 million border in sales this week.
It's only the 5th album of the decade to reach this mark! The other four
Albums are '21' by Adele(28,86 million), '25' by Adele (21,02 million),
'Christmas' by Michael Bublé (11,03 million) and '1989' by Taylor
Swift(10,20 million).

Beck's 13th studio album, 'Colors', is N°3 and its the second highest
debut of the week with sales of 81,000!

New entry at N°4 for Gucci Maneand his new Album 'Mr Davis' which debuts
with equivalent sales of 78,000!

Japanese Act DREAMS COME TRUE debut at N°5 this weel with 'Dream Quest'
and 75,000 evuivalent sales.

New entry for british Rocker Robert Plant at N°6 with 'Carry Fire' and
sales of 75,000!

샤이니(SHINee)'s Taemin enters the chart at N°7 wth 'Move' and euivalent
sales of 64,000!

Post Malone's 'Stoney' sells another 63,000 copies for a total of 1.482
million and slips one to N°8.

BTOB 비투비's 'Brother Act' debuts at N°9 with 'Brother Act' and equivalent
sales of 62,000.

Imagine Dragons close this week's Top 10 selling another 59,000 for a
total of 1.351 Million!