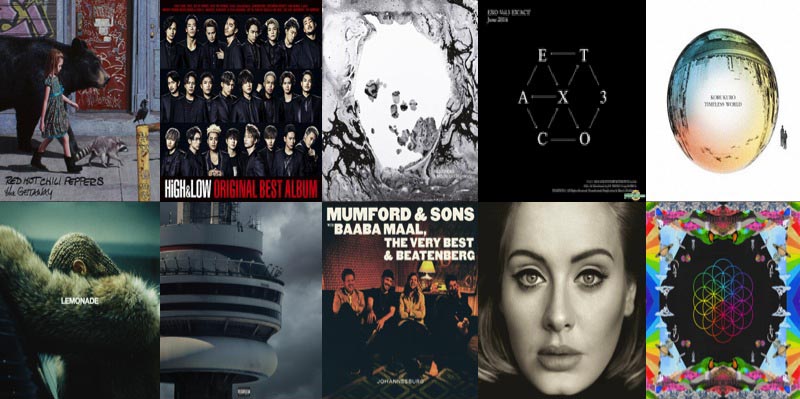 Red Hot Chili Peppers' new Album 'The Getaway' debuts atop the Global Album Chart with global sales of 342,000. The Album shifted 108,000 copies in the USA, 26,700 in Japan, 37,800 in United Kingdom, around 70,000 in Germany, 16,100 in France, 13,000 in Canada and 10,800 in Australia! The legendary funkmetal-raprock Group was formed 33 years ago in Los Angeles. Their two best-selling Albums, 'Blood, Sugar, Sex, Magik' (1991) and 'Californication' (1999) each sold over 15 million copies globally. I'm With You' (2011) also debuted at no.1, and has sold over 2,5 million copies so far.

Last week's no.1 Album, 'Ex'act' by South Korean boy group EXO, slips to no.4 and sold another 160,000 copies, for a total of 631,000 in just two weeks.

At No.2 is 'High & Low' by the Japanese supergroup EXILE which united many stars of the J-pop scene. For this greatest hits compilation, all tracks were newly created. 'High & Low Original Best Album' debuted at no.1 in Japan and at no.2 globally with sales of 258,000 sales, according to Oricon.

Radiohead's latest LP 'A Moon Shaped Pool' has soared from no.41 to no.3 this week, driven by a massive sales boost of 171,000 copies. Six weeks ago the set debuted at no.1 globally with 303,000 digital only sales.

'1989' by Taylor Swift sold another 12,000 copies this week bringing the total sales of the Album to 9,565,000!

Adele's '21' sold another 12,000 copies bringing total sales to 28,085,000!

Rihanna'Anti' sold another 21,000 and 1,091,000 so far!

'Blurryface' by Twenty One Pilots sold another 28,000 and 1,374,000 so far!

'Cleopatra' by the Lumineers sold another 15,000 and a total of 355,000.

'Cloud Nine' by Kygo sold another 14,000 copies and 174,000 so far!

'Dangerous Woman' by Ariana Grande sold 38,000 this past week and 491,000 so far!

'Fallen Angels' by Bob Dylan sold 14,000 copies and 175,000 so far!

'I Still Do' by Eric Clapton sold 29,000 and 254,000 so far!

'Immortalized' by Disturbed sold another 17,000 and 764,000 so far!

'Legend' by Bob Marley & The Wailers sold 12,000 and 33 million so far!

'Purple Rain' by Prince sold another 12,000 copies and around 21 million so far!

'Purpose' by Justin Bieber sold another 26,000 and 4,732,000 so far!

'Pure McCartney' by Paul McCartney sold another 40,000 copies and 110,000 so far!

'Seal The Deal & Let's Boogie' by Volbeat sold 45,000 this week and a total of 258,000. The Album debuted at no.1 on th global chart!