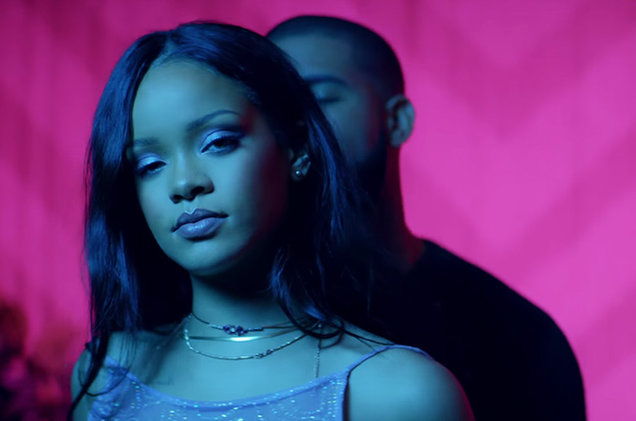 In its fourth week, "Work" peaked at number one in the USA and became Rihanna's fourteenth number-one song in America and the 1,052nd number-one single on the Hot 100 Billboard chart overall. Subsequently, she became the artist with the third-most number-one singles on the chart following The Beatles with 20 and Mariah Carey with 18. She broke a tie with Michael Jackson, who had reached 13 chart-toppers on the Billboard Hot 100 in his lifetime. Additionally, "Work" became Drake's second number-one single on the chart, the previous being the pair's 2010 collaboration, "What's My Name?". For the same issue, it rose to number 10 on the Radio Songs chart and became her 24th top-ten single, surpassing Mariah Carey's lead of 23 top-tens on that chart. "Work" is Drake's 14th top-ten song on the Radio Songs chart.

In the United Kingdom, "Work" debuted at number thirteen on the UK Singles Chart in the issue dated February 4, 2016. The following week, it jumped to number four, becoming Rihanna's 27th top-10 hit in the country. It is also her first since "FourFiveSeconds" reached number three in February 2015. It later reached number two during the week of March 3, 2016. The following week, ''Work'' slipped to number 3.

In France, "Work" peaked at number one on the singles chart for two weeks, becoming Rihanna's sixth number-one in the country, the second-highest amount of all time. The single also broke the record for the most streams in a single week, with 2.056 million streams.

In the Netherlands, "Work" was only Rihanna's second single to ever reach the top position on the Single Top 100 Chart, after "Don't Stop The Music" hit number one in 2007.

''Work'' topped the chart in Canada for the issue dated March 12, 2016 marking Rihanna's tenth chart topper. She subsequently joint Katy Perry for the record of the most chart toppers in the history of the Canadian Hot 100. Also it is Drake's first number one in his home country.