Sam Smith's second studio album 'The Thrill Of It All' is the World's best-selling Album!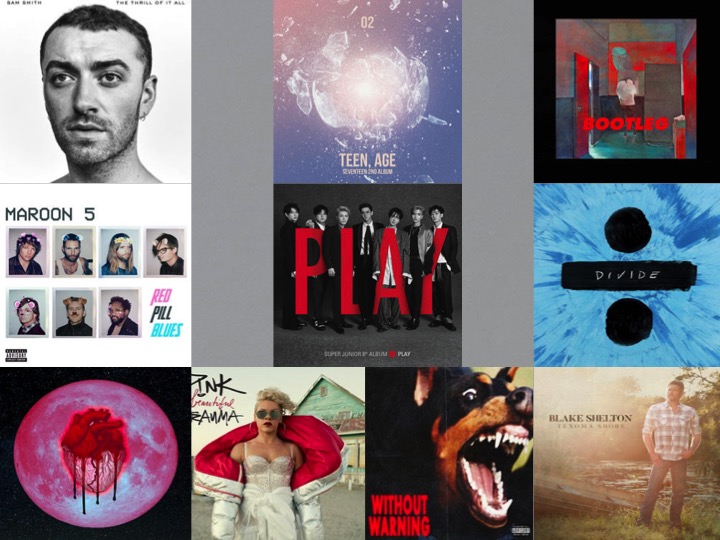 Sam Smith's 'THe Thrill Of It All' debuts this week at N°1 on the Global Album Chart with 423.000 equivalent sales, 237,000 of which were sold in the United States according to Nielsen Music, 97.000 in United Kingdom (according to Official charts), 16.000 in Canada (Nielsen Music) and 10.000 in Australia (ARIA). The album is powered by the ballad 'Too Good At Goodbyes', which is N°4 on this week's Global Singles chart. 'The Thrill Of It All' follows 'In The Lonely Hour', released in 2014, which has sold nearly 7,2 million to date.


New entry at N°2 for South Korean boy group Seventeen with their second album 'Teen, Age' and sales of 216.000, according to Hanteo.


Japanese Musician and illustrator Kenshi Yonezu debuts at N°3 with 'Bootleg' and equivalent sales of 185.000 sales according to Oricon.


New entry for Maroon 5 at N°4 with their 6th Studio Album 'Red Pill Blues' and equivalent sales of 183.000.


슈퍼주니어(Super Junior) debuts at N°5 with their brand new Album 'Play' and equivalent sales of 126.000.


Ed Sheeran's 'divide' holds at N°6 selling another 107,000 this week in equivalent sales and a total of 7.994.000 so far!


Chris Brown holds at N°7 with 'Heartbreak On A Full Moon', selling another 98.000 copies this week and a total of 187.000 so far!


P!nk's 'Beautiful Trauma' sells another 88.000 this week and a total of 1.122.000 so far!
21 Savage's 'Without Warning' with Offset & Metro Booming slips from 8 to 9, selling another 70,000 and a total of 132,000 so far!


Blake Shelton's Brand new Album 'Texoma Shore' debuts at N°10 with first week sales of 67.000!
Website Proudly Designed, Development & Supported by Nocturnal Cloud.