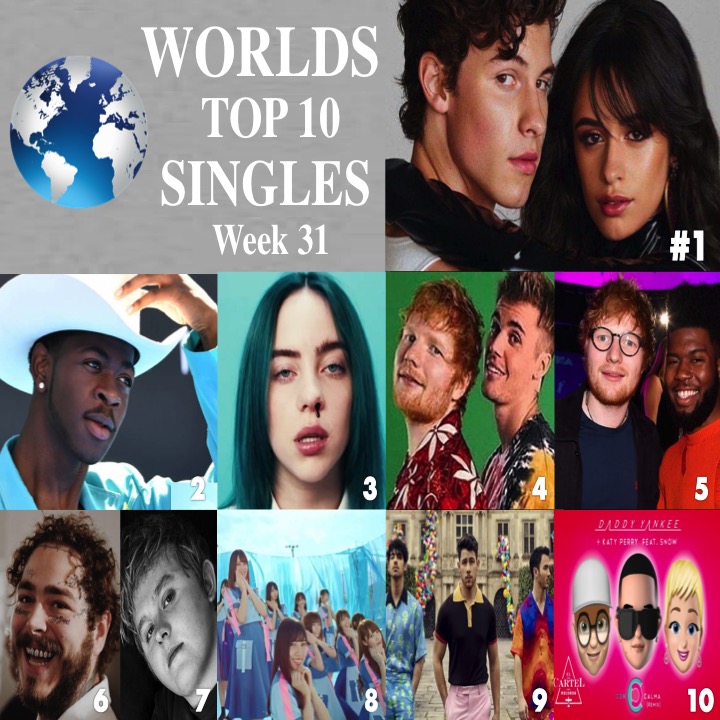 Shawn Mendes & Camila Cabello's "Señorita" holds atop the Global Track Chart for a 3rd consecutive week. The Song was written by Mendes, Cabello, Charli XCX, Ali Tamposi and Clean Bandit's Jack Patterson and produced by Benny Bianco, Cashmere Cat & Andrew Watt! Its Mendes' and Cabello's 2nd collab, following "I Know What You Did Last Summer" in 2015. "Señorita" has topped the charts in over 30 countries so far, including Australia, Austria, Bulgaria, China, Croatia, the Czech Republic, Denmark, Finland, Germany, Greece, Hungary, Iceland, Ireland, Israel, Italy, Lebanon, Luxemburg, Malaysia, the Netherlands, Nicaragua, Norway, New Zealand, Norway, Portugal, Scotland, Singapore, Slovakia, Sweden, Switzerland and the UK, and it has peaked at #2 in Belgium, Canada, Estonia, Slovenia and the US.
Lil Nas X's "Old Town Road" holds tight at #2 after 13 weeks at #1, while Billie Eilish's "Bad Guy" holds at #3, Ed Sheeran & Justin Bieber's "I Don't Care" holds at #4 after 8 weeks at #2, and Sheeran's Collab with Khalid, "Beautiful People", holds at #5 for a 2nd week. 
Post Malone's "Goodbyes' ft Young Thug holds at #6 for a 3rd week while Lewis Capaldi's "Someone You Loved" holds at #7 for a 2nd week.
New entry at #8 for Hinatazaka46's 2nd Single "Do Re Mi Sol La Si Do", the highest new entry of the week! 
Jonas Brothers' "Sucker" dips 8 - 9 on the Global Track chart this week while Daddy Yankee's "Con Calma" with Katy Perry & Snowholds at  #10!