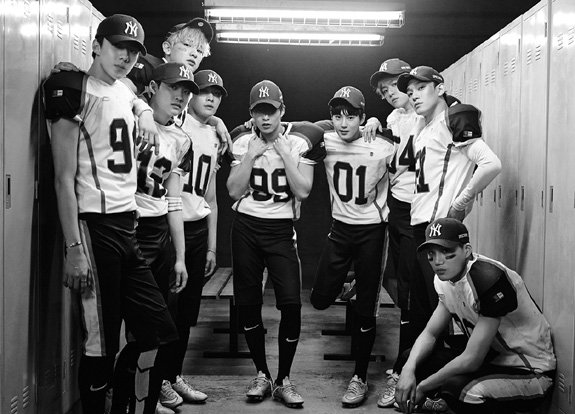 EXO's third studio album sold 464,967 copies in its first three days at retail in South Korea alone, according to Hanteo, making it the World's best-selling Album of the Week! It's the fastest selling album of all time in Korea! 'Ex'act' was released in two versions, Korean & Mandarin. Both versions were added together. Exo's former studio album 'Exodus' sold around a million copies so far and was the 26th best-selling Album in 2015 globally!

Beyoncé's 'Lemonade' returns to #2 after selling another 75,000 copies and a total of 1,857,000 units after eight weeks since its release.

Paul McCartney's latest compilation arrives at no.3 globally with 70,000 in sales. The LP features all big hits from Paul's solo career and with his seventies-band Wings.

Nick Jonas debuts at no.5 with his third solo album 'Last Year Was Complicated' after selling 59,000 copies.
'1989' by Taylor Swift sold another 12,000 copies this week bringing the total to 9,553,000.

'A Head Full Of Dreams' by Coldplay sold another 37,000 copies bringing their total to 3,130,000.

'Blurryface' by Twenty One Pilots sold another 27,000 copies this week bringing their total to 1,346,000.

Radiohead's 'A Moon Shaped Pool' which debuted at #1, sold another 15,000 and a total of 458,000.

'Anti' by Rihanna sold another 21,000 copies bringing its total to 1,070,000

'Cloud Nine' by Kygo sold another 17,000 copies and a total of 160,000.

'Fallen Angels' by Bob Dylan sold 18,000 and a total of 161,000: 'I Still Do' by Eric Clapton sold another 33,000 bringing the total to 225,000 and 'Immortalized' by Disturbed sold another 17,000 for a total of 747,000.

'Legend' by Bob Marley sold another 17,000 and a total of 33 million making it the best-selling Reggae Album of All Time!

'Purple Rain' by Prince sold another 17,000 with a grand total of 21 million.

'Purpose' by Justin Bieber sold another 29,000, totalling 4,706,000!

'7/27' by Fifth Harmony sold 25,000 copies this week and a total of 149,000.

'Thank You' by Meghan Trainor sold 27,000 copies and a total of 256,000.

'The Very Best' by Prince sold another 23,000 and a total of 4,4 million!

'This Is Acting' by Sia sold 19,000 and a total of 737,000.

'X' by Ed Sheeran sold another 16,000 copies and 8,360,000 so far.