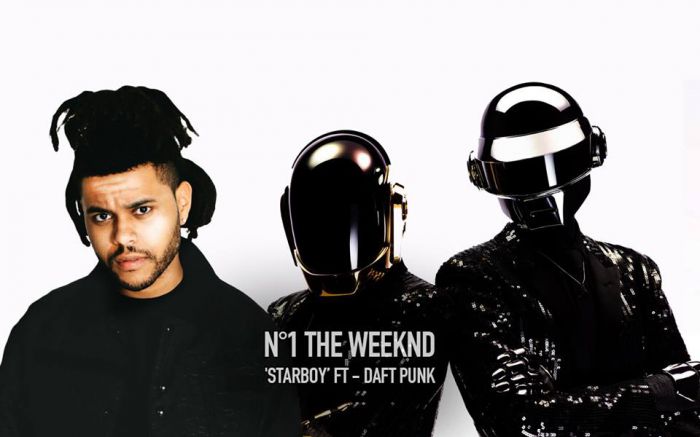 "Starboy" by The Weeknd feat. Daft Punk has been at No. 2 on the
Global Track Chart for 7 weeks. Last week it sipped from No. 2 to No. 3,
but this
week "Starboy" shoots to No.1, thanks to the massive first week sales
of the 'Starboy' Album. It's the second No. 1 smash for the Canadian
R&B Superstar, after "Can't Feel My Face" topped the chart for 3 weeks
in August 2015. And for the French-House legend, Daft Punk, it's the
third no.1 global smash, after 'Get Lucky' in 2013 with top producer
Pharrell Williams and "Stronger" in 2007 with US rapper Kanye West.

"Starboy" was released as the lead single from The Weeknd's third studio
album of the same name on September 22, 2016. The artists co-wrote the
song with Doc McKinney, Jason "Daheala" Quenneville and Henry "Cirkut"
Walter. Doc McKinney and Henry "Cirkut" Walter assisted Daft Punk in the
song's production. Lyrically, "Starboy" incorporates themes of the
extravagance associated with a celebrity lifestyle, as well as
discussing how the celebrity lifestyle can make an entertainer fragile.

The song reached number one in Canada, Denmark, France, New Zealand,
Norway, Mexico and Sweden, while also going top ten in various
countries, including Australia, and the United Kingdom. In the United
States, "Starboy" peaked at number 2, behind The Chainsmokers' "Closer"
for five weeks and Rae Sremmurd's "Black Beatles" for an additional week
on the Billboard Hot 100. The single opened at number 22 on the Digital
Songs chart with 28,000 downloads, and opened at number 37, following
its first week of airplay on the Radio Songs chart, equating to about 36
million plays in total. The song also became Daft Punk's second top 40
entry. The following week, "Starboy" jumped 37 positions to reach number
three, becoming The Weeknd's fifth top 10 single and Daft Punk's second.
It has so far peaked at number two. It sold 88,000 copies in its second
week, and 92,000 in its third week. As of December 2, 2016, it has sold
741,000 copies in the US!

In New Zealand, the single debuted at number five, which was followed by
two consecutive weeks at number 2 before moving to number one on the
chart for the week of October 24, 2016. This marks The Weeknd's second
number one single, as well as Daft Punk's first number one single in the
country.

Meanwhile on the year end chart, "Can't Stop The Feeling!" by Justin
Timberlake finally overtakes Drake.

The Chainsmokers' "Closer" feat. Halsey is No. 4.