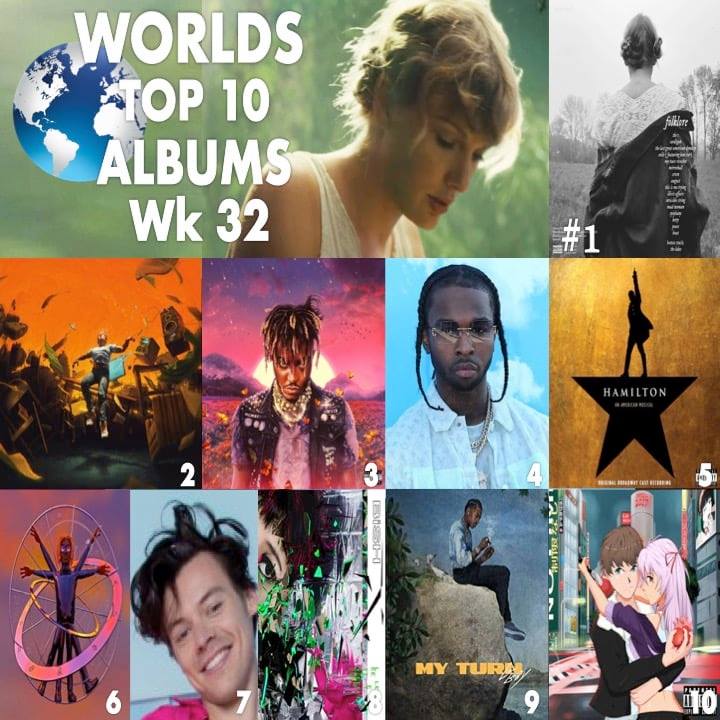 Taylor Swift's 'Folklore' debuts at No. 1 on the Global Album Chart with massive equivalent album sales of 1.013.000, 846,000 of which in the US, 47,000 in Canada, and 37,000 in the UK. 'Folklore' also sold over 700,000 equivalent album units (EAUs) in China although there is no official chart tracking yet! 'Folkore' is the hitmaker's 7th No. 1 Album and 2020's top-selling Album in the US, having sold 846,000 EAUs in its 1st week, the biggest debut on the Billboard 200 since Taylor's last album, 'Lover' in 2019! 615.000 of 'Folklore's 846.000 equivalent units were pure sales. The album surpasses the previous 2020 top-seller in the US, BTS' Map of the Soul: 7, which has sold 574,000 EAUs since its release on Feb. 21! 'Folklore' also had the largest streaming week for a Female Artist in 2020 with 218,000 SEA units (289.85 million on-demand streams). It's the 2nd biggest streaming week of all time for a Female album after Ariana Grande's 'Thank U, Next' which scored over 307 million streams in February, 2019. Swift tied witt Janet Jackson for the 3rd-most #1 albums in America and became the 1st female artist to have 7 albums debut at No. 1! She was also the first act in Nielsen SoundScan history to have 7 albums sell at least 500,000 copies each in a single week! The lead single "Cardigan" debuted at #1, becoming Swift's 6th Hot 100 #1 single and making Swift the 1st artist in history to debut at #1 on both the Billboard 200 and Hot 100 in the same week! 'Folklore' was Swift's 2nd consecutive album to chart all 16 of its tracks on the Hot 100 simultaneously, following 'Lover'', with Swift surpassing Nicki Minaj as the Female with the most Hot 100 entries of all time ie. 113! Swift also became the first woman to debut 2 songs in the Top 5 and the first act to debut 3 songs in the Top 10 simultaneously, with "The 1" at #4 and "Exile" at #6! 'Folklore' also debuted atop the weekly Album charts in Australia, Belgium (Flanders), Canada, Czech Republic, Denmark, Estonia, Finland, Ireland, New Zealand, Norway, Switzerland and the UK! In Canada, 'Folklore' is Swift's 7th consecutive #1 album. All 16 tracks debuted simultaneously on the Canadian Hot 100 chart, with "Cardigan", "Exile" & "The 1" landing in the Top 10! In the UK, 'Folklore' is #1 for a 2nd week. It debuted atop the Official UK Albums Chart with 37,000 copies, surpassing Eminem's 'Music To Be Murdered By' for the biggest digital sales week of 2020 in the country! It's Swift's 5th consecutive UK #1 album, and Tay now joins Madonna, Kylie Minogue, Barbra Streisand and Céline Dion who also have at least 5 x UK #1 LPs! On the UK Official Singles Chart, "Cardigan", "Exile", and "The 1" landed at 6, 8 and 10, taking Swift's UK top-ten hits total to 16. She is now the 1st woman in UK history to debut 3 Top 10 songs simultaneously. In Ireland, 'Folklore' scored the biggest opening week of 2020! Swift is now the 1st female solo artist to chart 5 x #1 albums in Ireland in the 21st century! "Exile", "Cardigan" & "The 1" debuted at #3, #4 & #7 on the Irish IRMA Singles Chart, with Swift now totalling 15 x Top 10 hits! In China, the album sold nearly 720,000 copies in its 1st week and is the best-selling foreign female album of 2020! In Australia, 'Folklore' is #1 for a 2nd week! It's Swift's 6th album to debut at #1 on the ARIA Albums Chart with all 16 tracks in the Top 50, breaking the all-time record for the most simultaneous debuts in one week, with "Cardigan" becoming Swift's sixth Australian #1 hit!
Logic's farewell Album, 'No Pressure', debuts at #2 on the Global Album chart after selling 245.000 equivalent units in its 1st week, while former chart topper, the late Juice WRLD's 'Legends never Die' holds at #3 after selling another 164.000 and 987.000 EAUs so far, and former No. 1, the late Pop Smoke's posthumous album, 'Shoot For The Stars, Aim For The Moon' holds at #4 after selling another 160.000 EAUs and 876.000 so far!
The Original Broadway Cast 'Hamilton: An American Musical' lifts 7-5 after selling another 83.000 units and 2.401.000 EAUs since its release 8 weeks ago while Gunna's 'Wunna' reenters the Top 10 at #6 in its 3rd week after selling another 75.000 EAUs and 548.000 so far!
Harry Styles' 'Fine Line' rises 10-7 this week after selling another 66.000 units and 2.687.000 so far while Japanese Idol Girl Group BiSH's new album 'Letters' debuts at #8 after selling 58.000 EAUs in its 1st week!
 Lil Baby's 'My Turn' reenters the Top 10 at #9 after selling another 57.000 EAUs and a total of 1.709.000 and The Kid Laroi's brand new 'F*ck Love' debuts at #10 after selling 56.000 EAUs.