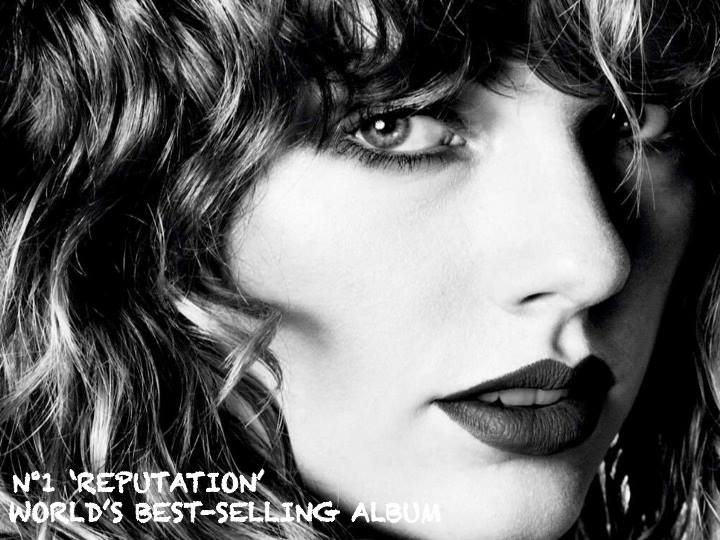 While global album sales continue to fall dramatically, two Female
Artists have two Albums in the global Top 10 with sales of over one
million in a single week! Taylor Swift's 'Reputation' and 'Finally', a
compilation by J-pop Icon Namie Amuro.


'Reputation' is Taylor's 6th studio album and rockets to the N°1 spot in
its 1st week with massive equivalent sales of 1,619,000, 1,585,000 of
which were pure sales! It's the second best weekly sales frame this
year, after Ed Sheeran's 'Divide' which debuted with 1,789,000
equivalent sales in March. Most of 'Reputation''s sales, ie 1,238,000,
come the United States (Nielsen) with 81,000 from Canada (Nielsen),
83,600 from the UK (Official charts), 55,000 from Australia (ARIA) and
37,000 from Japan (Oricon). Taylor Swift's former album '1989' debuted
with 1,681,000 sales globally, in the week 46, 2014 and has sold a total
of 10,255,000 so far.


Japanese Legend, Namie Amuro is an Icon in her native Japan. 'Finally'
is already her 14th number one Album there and with equivalent sales of
1,113,291, it's the best sales week this year in Japan, followed by
Arashi's "Untitled', which topped the chart on November 4 with sales of
668.000. Namie started her career in 1991 at age 14 as an idol singer in
the band Super Monkey's. In 1995 she signed to Avex Trax and debuted as
a solo artist with the single 'Body Feels Exit'. Namie's biggest success
was her second album 'Sweet 19 Blues' from 1996, which debuted with
massive sales of 1,921,850 copies in its first week and sold nearly 3,4
million to date.