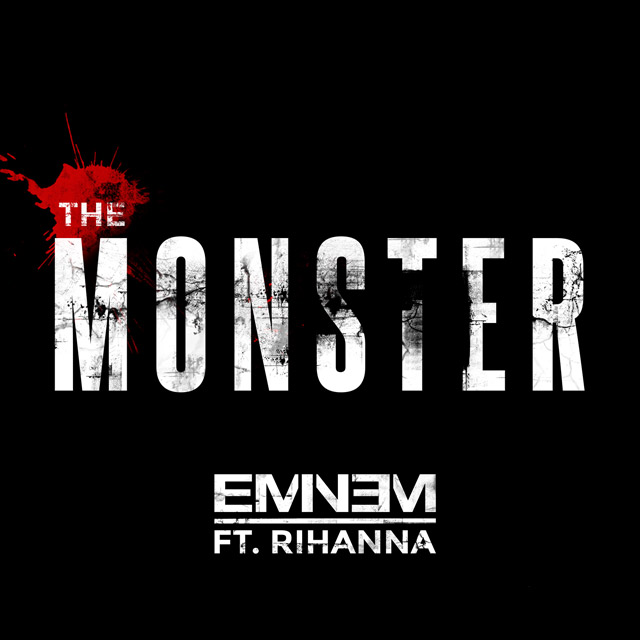 "The Monster" marks the 4th Eminem and Rihanna collaboration. The Song was written by Marshall Mathers, Jon Bellion and the Artist Bebe Rexha. "The Monster" was released on October 29, 2013, as the fourth single from Em's new album "Marshall Mathers LP2". The song's lyrics present Rihanna coming to grips with her inner demons, while Eminem ponders the negative effects of his fame.

"The Monster", No.2 this week in America, first entered the US Hot 100 chart at number three, on November 6, 2013, marking Eminem's third best entry following "Not Afraid" (No. 1, 2010) and "Love the Way You Lie" also featuring Rihanna (No. 2, 2010). The entry gave Rihanna her 25th top ten on the chart, equalling Elvis Presley for the eighth-most top tens in the chart's history.

"The Monster" has successfully charted worldwide and has topped the charts in the United Kingdom, France, Ireland, Switzerland, Canada, Australia and New Zealand.

In Canada, the song debuted at number one on the Canadian Hot 100, selling 53,000 downloads, making it Eminem's highest selling debut week in Canada for a single since his song "Berzerk," which sold 50,000 downloads in its debut week.
 
In the United Kingdom, "The Monster" entered at number one on the UK Official Singles Chart on November 3, 2013  for the week ending date November 9, 2013 selling 74,674 copies. The song marked Eminem and Rihanna's eighth number one single in the UK. As for Rihanna, the chart topper placed her with Elvis Presley and The Beatles in the chart's history, as just one of three acts to have scored seven number ones in Britain over seven consecutive years.