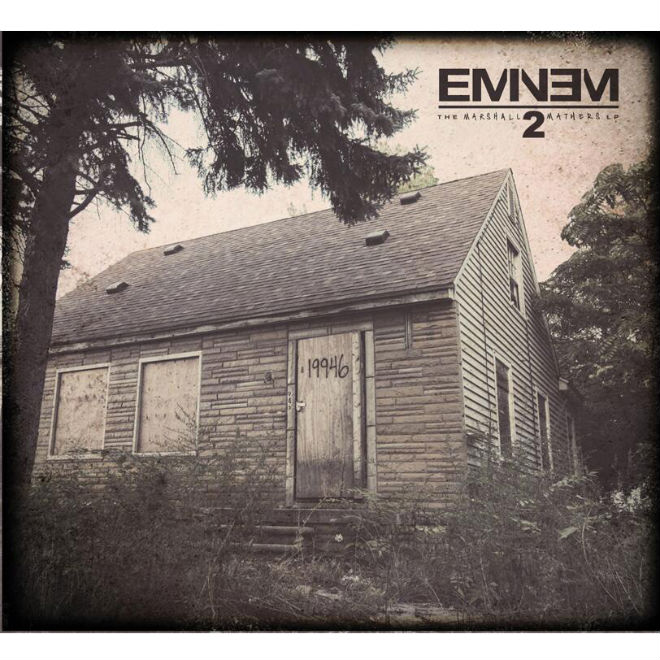 The Marshall Mathers LP 2 is the eighth studio album by American rapper Eminem, released on November 5, 2013, by Aftermath Entertainment, Shady Records, and Interscope Records. The Album is a continuation of The Marshall Mathers LP.  The album was produced by Eminem, Rick Rubin, Luis Resto,Emile Haynie, and Alex da Kid. It features guest appearances from  Rihanna, Skylar Grey, Nate Ruess from Fun and Kendrick Lamar.

The album debuts this week at no.1 in the World's best-selling Albums chart with a whopping great sales tally of 1.221.000! The Album also debuted on thursday at number one on the Billboard 200 chart, selling 792,000 copies in its first week in America alone. Its the second-biggest debut of 2013 in the US and the second-largest sales week of the year, only behind Justin Timberlake's The 20/20 Experience debut, which entered at number one with sales of 968,000 in March. The album also marks Eminem's seventh No.1 consecutive album to debut at No.1. His only album to miss the top slot was his first release, 1999's The Slim Shady LP, which debuted and peaked at number two.

In Canada, the album debuted at number two on the Canadian Albums Chart, selling 104,000 copies, just falling behind Celine Dion's new album Loved Me Back to Life, which sold 2,000 copies more.

In the United Kingdom, the album debuted at number one on the UK Albums Chart, selling over 143,000 copies, becoming Eminem's seventh consecutive No. 1 album in the UK. Eminem became the first American act to score seven consecutive UK Number 1 albums and is now on par with The Beatles in second place for the most chart-topping U.K. albums in a row.

The Album is also No.1 this week in Ireland, Germany, Austria, Switzerland and Belgium. In Australia, the album debuted at number one on the ARIA Albums Chart, with only three days of chart sales, becoming his seventh No. 1 album there. In New Zealand, the album went straight to No.1, and was certified gold just three days after its release.