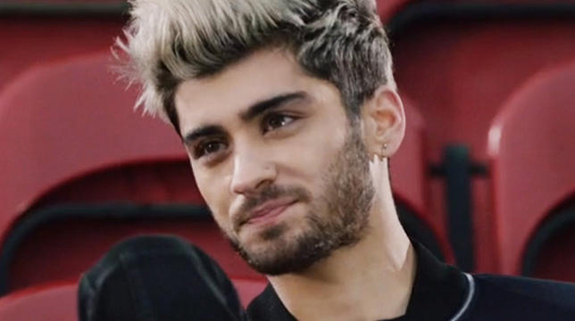 Zayn has the World's No.1 Album after selling 213,000 copies this past week! The 23 year-old Superstar tops the current Global Album Chart with his solo debut 'Mind Of Mine'. The biggest sales were in the US (112,200) and it's the first time that a British male solo artist has opened at the top of the Billboard 200 Albums Chart with his solo album!

Zayn also debuted at No.1 on the official UK Album Chart selling 17,600 copies. He also debuted at No.1 in Australia and six other countries around the world, according to his label, RCA. The lead Single 'Pillowtalk', also debuted atop the World Singles Chart eight weeks ago and is no.11 globally this week, no.9 in the UK and no.4 in America!

The second highest debut is '10th Anniversary Best ~ 10Ks!', the first compilation album of the Japanese boy group Kat-Tun. The Album soars to No.2 on the global chart with 167,000 copies sold, according to Oricon.

Adele's '25' leaves the top two positions of the Global Chart for the first time in its 19 weeks on the chart! It's in 3rd position this week, after selling another 104,000 copies, and a whopping great total of 17,635,000 since its release on November 20!  '25' is currently no. 5 in the US.

The legendary American blues rock guitarist, singer and songwriter, Joe Bonamassa, debuts at no.4 on this week's hitlist with his twelfth studio Album 'Blues Of Desperation' and sales of 81,000.

Rounding out the top five is Justin Bieber's 'Purpose' with 66,000 sales, and a total of 4,27 million since its release, 20 weeks ago! 'Purpose' is No.4 in the US.

Sia's '1000 Forms Of Fear' sold another 10.000 copies last week and reaches a total of 1,566,000 so far.

'In The Lonely Hour' by Sam Smith sold another 10,000 units last week and has sold 6,481,000 units so far!

'Made In The A.M.' by One Direction has sold 2,192,000 copies so far.

'Anti' by Rihanna has sold a total of 730,000 so far! Rihanna's song "Work" is the No. 1 single for the seventh week in a row in the US, with 96,000 downloads and more than 28 million streams. Rihanna's album, "Anti" (Roc Nation), holds at No. 3 in America in its 10th week out.